Howdy,
Hope you're enjoying the waning days of summer with your family.
Last Friday I went to the monthly free Community Dinner at the Cambridge Community Center, which I really enjoyed. The families there were mostly African American, unlike most gatherings at our school, say. I got to meet a 96 year-old Cambridge native Cecelia, whose house apparently I pass by everyday on the way to drop off my kids. I also got to meet my next door neighbor, who I haven't had a chance to meet after almost 5 years!
She has a giant Ayanna Pressley for congress sign I've been secretly admiring, since it's right on the street corner. Yvonne told me well yeah she's a fan, but the sign's blocking the sun and killed a bunch of her precious lilies. ;-)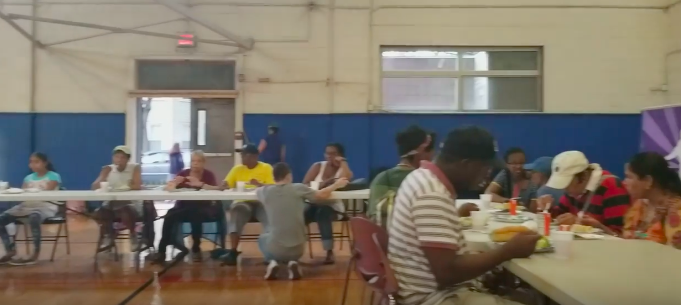 Also last weekend, I took my inlaws (who saw only one movie in the last 10 years) to see Crazy Rich Asians. They really enjoyed seeing what felt to them like a distinctly Asian mother-in-law comedy on the big screen, and was happily surprised to see the theater filled with not just Asians but regular folks just like in their neighborhood. :) It was just hilarious the 2nd time around for me: and could hear people burst out laughings. Great to see it #1 in the box office!
---
A number of you reached and told me you really liked last week's writeup on talking to spouse. (Thanks!)
Many of you also answered that poll on talking to spouse, pretty interesting result! ;-) It's a small sample size and not meant to be scientific, but you can see the most women don't think that they talk enough with their spouse while most men are pretty happy the way things are.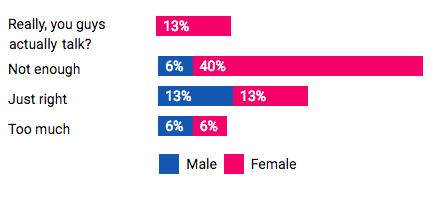 Well, thanks for making me feel totally not alone! ;-)
One mom said "This survey result emphasizes the importance of female friendship. We can talk (vent) amongst ourselves. " Right, instead of feeling like our spouse aren't meeting our needs. ;-)
Speaking of which, some of us moms have been getting together for monthly moms dinner at a local restaurant. Let me know if you wanna join us.
You know, my most popular blog posts are often about marriages, not parenting. One parent suggested it's because there're plenty of opportunity to talk about parenting, but not a lot of chance to talk about marriages. You'd be interested to know that a previous version of Yana had a section all about marriages. ;-)
Weekend Events
Saint Anthony's Feast Weekend: 99th Anniversary
Saint Anthony's Feast is the largest Italian Religious Festival in New England. Named the "Feast of all Feasts" by Nati...
Thursday, 5pm - Sun., Saint Anthony's Club, Boston
BostonFest: Food Trucks, Live Music & More!
A perfect summer soiree, The Lawn on D will be vibing with food trucks, live music, lawn games and cool cocktails. M...
Thursday, 5:30pm, The Lawn on D
Free Landmarks Concert: Symphonic Dances
Celebrating the 100th birthday of Leonard Bernstein—who made his professional debut as a conductor at the Hatch Memoria...
Thursday, 7pm, Hatch Memorial Shell
Annual Community Food Festival
This event features a buffet from local restaurants, live music and auction! All funds raised go to support Salvation A...
Friday, 12pm, University Park Commons on Sidney Street
Free community fitness classes: Family Yoga
Attention yoga and bootcamp enthusiasts re: FREE exercise classes! Starting THIS Thursday (6/21), Friends of Raymond...
Saturday, 9:30am, Raymond Park
Tomato lovers get ready for some food foodie fun at our annual Tomato Festival! This delicious event will feature cooki...
Saturday, 11am - Sun., Wilson Farm, Lexington
This event will finish off the Downtown Playdates series for an afternoon of live music with The Stacey Peasley Band, ...
Saturday, 12pm, Atlantic Wharf, Boston
We welcome you to the 8th year of this FREE ground-breaking festival featuring the most musically diverse array of jazz...
Saturday, 12pm, Boston Maritime Park in the Seaport
Free Event: Bard Youth Chinese Orchestra Premiere Performance at Harvard
The Bard Youth China Orchestra, Featuring talented young performers of traditional Chinese instruments, will perform a ...
Saturday, 3pm, Sanders Theatre Harvard University
Come to enjoy yourself, to relax, and to discover a remarkable new urban experience in a fascinating modern city. Water...
Saturday, 7:30pm, 100 Canal Walk Providence, Rhode Island
People, Police, & Peace Family Fun Day
Good People. Good Music. Good Food. Good Times. With the overwhelming violence steadily climbing in our city and ac...
Sunday, 11am, Titus Sparrow Park, Boston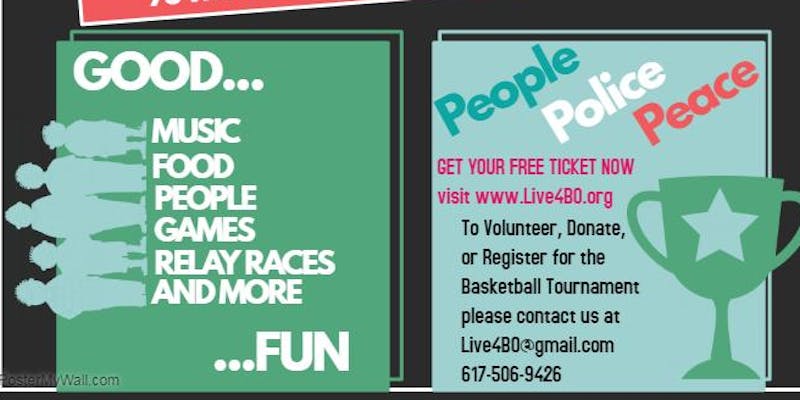 Central Square Outdoor Movie Night
Join us outdoors for a family-friendly movie night filled with live childrens' music, audience interaction, fantasy, an...
Tuesday, 7pm, University Park
Free Concert: Mercury Orchestra
Channing Yu and the Mercury Orchestra return to the Hatch Shell after a highly acclaimed appearance in 2017. The orches...
Wednesday, 7pm, Boston Landmarks Orchestra
Join the Institute of Contemporary Art (ICA) and Berklee for the tenth year of HarborWalk Sounds on ICA Free Thursday N...
Thursday 7/05, 6pm - 8/30, The Institute of Contemporary Art/Boston