Howdy,
Last Friday we had a very nice school concert. When the 4th grade girls who used to be in my son's JK/K class performed, I teared up a bit: they just looked so grown-up. It felt like yesterday when they were just shy little girls... Time sure flies when you are a parent stressing about the day to day. :)
What are your plans for the February Vacation Week next week? We have a bunch of events for that, good with mild dry weather reaching 60s on Tuesday. :)
Would be more fun to go with other families, right? There was a few pings for playdates on Yana this weekend, fun ideas on skating or robot competition viewing. So I thought more about how to make it easier for people to actually connect.
One dad said maybe the messages for doing stuff together should work differently from regular forum postings, so they wont' get lost in the emails.
That would make sense right? :) Maybe you could get SMS alerts if your kids in the same class or belong to the same circles, for example.
I'm working on making this happen... with luck in time for next week. What it'd look like? On the forum tab, you'll be able to click Impromptu Invites. Then for those, if your kids are in the same class, you'll get an SMS alert if you have phone number for your profile.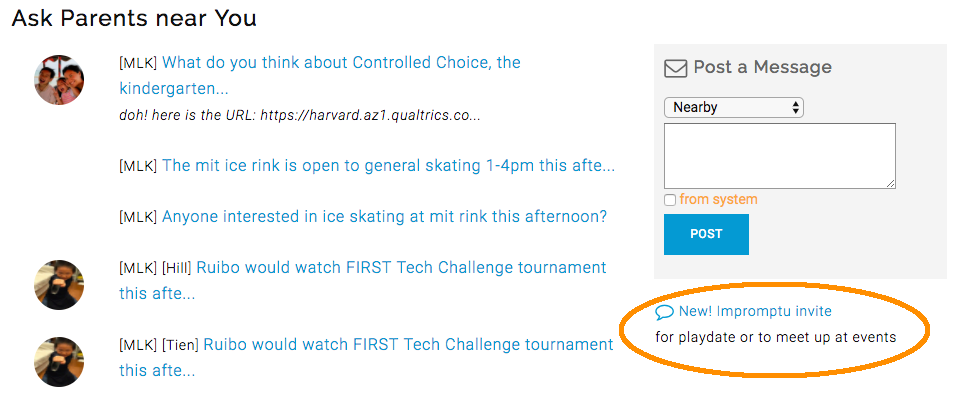 O, and yes, we now have profiles. When you click on a parent on Yana, or select Profile from the top right, you'll be able to see more about that person, especially if you share circles or are parents at the same school and both opt into the directory.
Thoughts? Feedback? Not sure if we have your phone number for SMS alerts? You can check here: https://yana.com/myprofile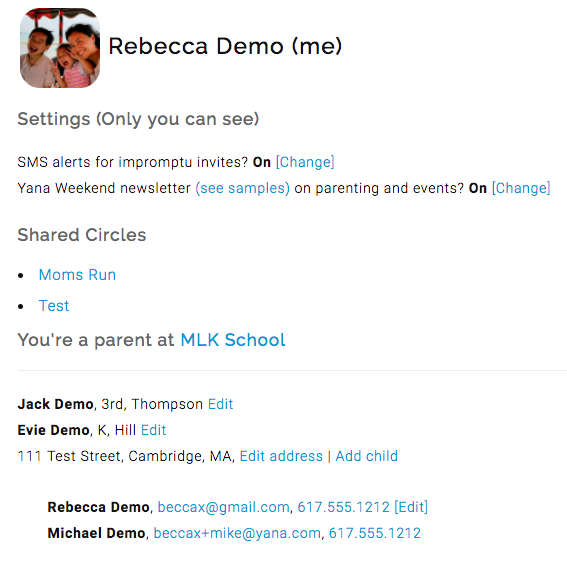 Lastly, a quick announcement, since we made the cpsdlottery.org site, a Harvard student has reached out asking for help on publicizing a survey on CPS Kindergarten Lottery. Please fill out the survey if you'd like to share your thoughts on your lottery experience, regardless if you've gone through it last year or 10 years ago. Thanks!
Weekend Events
Engage in urban play in a whole new way with our interactive light and sound playground in Seaport, Impulse! Impulse is...
Friday, 10am, Seaport Common , Boston

Dragonslair at Science Fiction & Fantasy Convention
For our younger members, Dragonslair host all kinds of fun and creative activities for children between the ages of 7-1...
Friday, 1pm - Sun., Westin Waterfront Hotel, Boston
Baking Bread: Learn how to make honey whole wheat bread and sourdough bread. Join us in The KITCHEN for a series of ...
Saturday, 10am, The Boston Public Market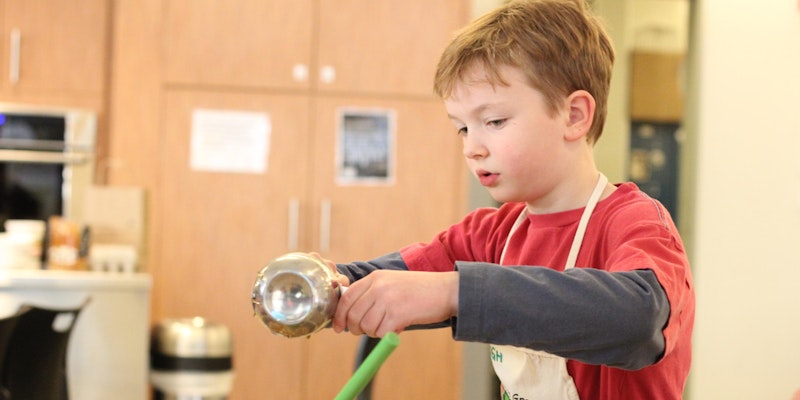 22nd Annual NEMES New England Model Engineering Show
See Operating Scale: Steam Engines, Gasoline Engines, Aircraft Engines, Stirling Cycle Engine, Clocks, Machinis...
Saturday, 10am, Charles River Museum of Industry & Innovation, Waltham
Celebrate! Shaw Pong Liu - Exploring China
From the grasslands of Mongolia to the high mountains of Yunnan, master musician Shaw Pong Liu takes audiences on a dyn...
Saturday, 10:30am, John F. Kennedy Presidential Library and Museum, Boston

Celebrate the Chinese "Zoo" Year with a special performance and zookeeper chats. Watch as the Chiu Mo Kwoon School perfo...
Saturday, 10:30am, Franklin Park Zoo

Tet in Boston 2018 - Day Festival
Come celebrate Vietnamese Lunar New Year - Year of the Dog! There will be raffle drawing, lion dance, live entertai...
Sunday, 10am, Boston College High School
It's painting fun for everyone! This special Paint Nite experience led by a local artist is open to painters ages 6 and...
Sunday, 1pm, THE SHOPS AT THE PRUDENTIAL CENTER
Free admission for kids all week! Explore and make art, watch a performance, go on a family tour, and listen to childre...
Monday, 10am - 2/23, Museum of Fine Arts, Boston
Join us for Feb Fest, our annual celebration of National Engineers Week, during February school vacation, with daily ha...
Monday, 10am - 2/24, MIT Museum
Welcome the Year of the Dog. Join us February 19th through 23rd in welcoming the Year of the Dog as part of our Luna...
Monday, 11:30am - 2/23, Boston Children's Museum
Kids & Family Programming: February Vacation Week
Join us in The KITCHEN during February Vacation Week for FREE cooking demos and hands-on activities to celebrate local,...
Monday, 12pm - 2/23, The Boston Public Market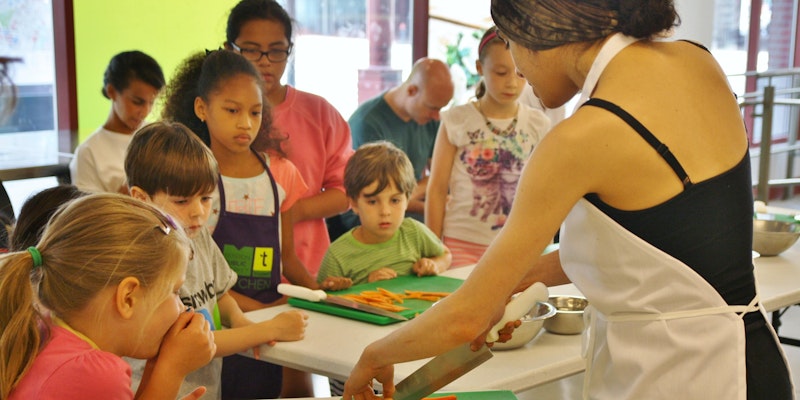 Looking for fun and affordable family activities for February School Vacation? We've got you covered at Faneuil Hall! W...
Monday, 6:30pm - 2/22, Faneuil Hall Marketplace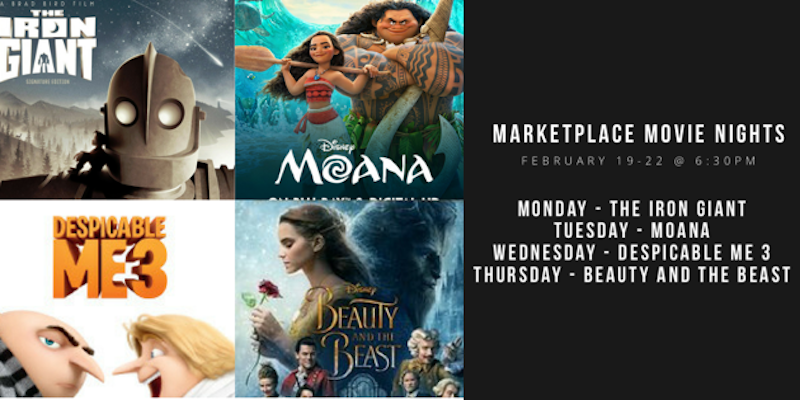 826 Boston Creative Writing Workshops for Kids
During February and April school breaks, 826 Boston offers free workshops on everything from mythical creatures to time...
Tuesday, 10am - 2/23, 826 Boston, Roxbury
Art and Architect Adventures @ ICA
Take in the art on view in our galleries. Explore our building?and use it as a giant viewing device! Work with your fri...
Tuesday, 11am - 2/23, ICA Boston