How was your Thanksgiving?
We had a very nice time with the inlaws, complete with our annual tradition of a fried turkey. :) Kudos to my husband and my father-in-law for braving the extra cold weather to fry the bird outdoors. The kids and their cousins played, while us adults planned a family get-together in January, and everyone ate a bit too much. :)
We then went skiing at Wachusetts. It was in the 20s, with lots of snowmaking, and nobody on the trails. Our kids had a blast, especially my daughter, who after falling a few of times (with me, without me, making me fall only) finally mastered the chairlift! The key is to sit on the inside so more time to get settled.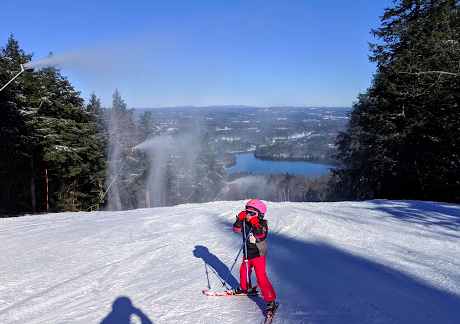 We then dropped the kids with grandparents so we could have a date night and watched the excellent movie Widows. I will not spoil it for you by saying anymore, except that it feels very culturally current.
We had saw 4 sets of friends over the long weekend, with kids and without. I ping friends or they pinged me, and we spontaneously got together. Our kids will pick playing with friends over just about anything. :) Hmm, guess where they got that from. ;-)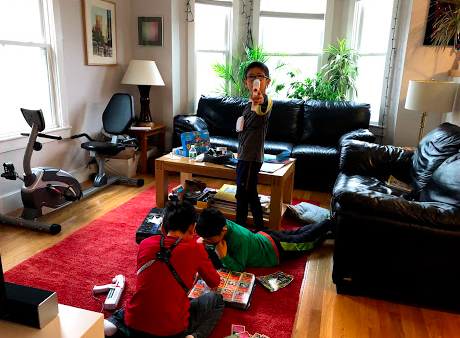 Most importantly, both my husband and I slept a lot, until 8 or 9 on some days.
At the end of the weekend on Sunday, while my husband is busy watching football, I mentioned to him I feel very relaxed and content. I thought my husband is wonderful and our kids are wonderful, and life is pretty good. :)
It's a rare feeling as a busy parent. I'm not sure if it's the time to relax, being with family and friends, or sleeping more, or maybe all the above. But I could sure use more long weekends like this. ;-)
Weekend Events
Boston Common Tree Lighting & Figure Skating Ice Show
Join The Skating Club of Boston at The Boston Common Frog Pond for a FREE figure skating ice show with national and int...
Thursday, 5pm, Boston Common Frog Pond
A Charlie Brown Christmas Live
A Charlie Brown Christmas Live on Stage will bring holiday cheer to Boston with a limited engagement at the Boch Center...
Thursday, 7pm - Sun., Shubert Theatre
Boston Ballet's The Nutcracker 2018 Opening Weekend
Boston Ballet's holiday classic The Nutcracker returns to the Boston Opera House stage this winter. Follow Clara as she...
Thursday, 7:30pm, Boston Opera House
First Class Weekends at Loon Ski and Snowboard
MLK mom Diane teaches skiing here! Ever think about learning to ski or snowboard? Skiing and riding are wonderful way...
Saturday, 8am - Sun., 60 Loon Mountain Rd., Lincoln, NH 03251
Join us as the Museum hosts a one-of-a-kind event celebrating anime, the popular style of Japanese animation that inclu...
Saturday, 9am, Museum of Science, Boston
Enjoy refreshments, treats, and special sales while strolling the Marketplace. Refreshments will be served from 2pm - 5...
Saturday, 10am - Sun., Faneuil Hall Marketplace
This holiday season Atlantic Wharf will be hosting our 4th Annual FREE "Holly-Day on the Harbor" on Saturday, December ...
Saturday, 12pm , Atlantic Wharf, Boston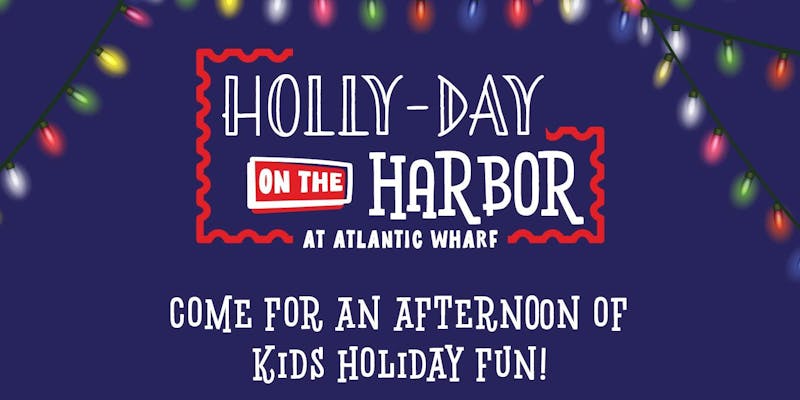 Mayor Walsh's Enchanted Trolley Tour
For the 23rd year, the Mayor's Enchanted Trolley Tour will continue the festive tradition of lighting holiday trees whi...
Saturday, 2:30pm, Cross Street and Hanover Street, North End
PJ Library Celebrates Chanukah with Vanessa Trien
Back by popular demand, Vanessa Trien treats us to a festive holiday concert. Celebrate the warm light of Chanukah by b...
Saturday, 4pm , Fayerweather Street School, Cambridge
Hanukkah: The Festival of Lights
Enjoy an evening of art, music, and activities celebrating Hanukkah: The Festival of Lights. Join us for a for an eveni...
Wednesday, 4:30pm, Museum of Fine Arts, Boston
This is not your average craft fair - it's more like a party where you can buy stuff! The Harvard Square Holiday Fa...
Saturday 12/08, 10am - 12/23, St. Paul's Church Hall, Cambridge