Welcome back to school!
If you know of parents old and new who might like this newsletter, please tell them to sign up at Yana.com. Thank you!
How was it getting your kids ready for school?
Our kids have been in summer camps right at our school for the most part. So it was easy for them and easy for me. (Except for the fact that I had to prepare lunch daily; very happy that's all done for a while! :)
We only had a week of vacationing at the end of the summer with the grandparents and cousins, so schedule change isn't as big of a problem for us as some of the other parents I talked to.
Or rather, not a problem for them but can be a problem for me. ;-) This morning, I remembered last minute that I was supposed to get coffee for our PTO's welcome back to school. So I had a mad dash to run to Dunkin Donuts.
Meanwhile, my kids got ready themselves at home and waited, and waited...
When their dad asked, well do you want to walk to school or wait for mommy, they both said walk to school with daddy. My older one, now a 4th grader, was especially worried that they are already late, and complained about needing a late pass. Luckily, they got to school on time and pass averted. ;-)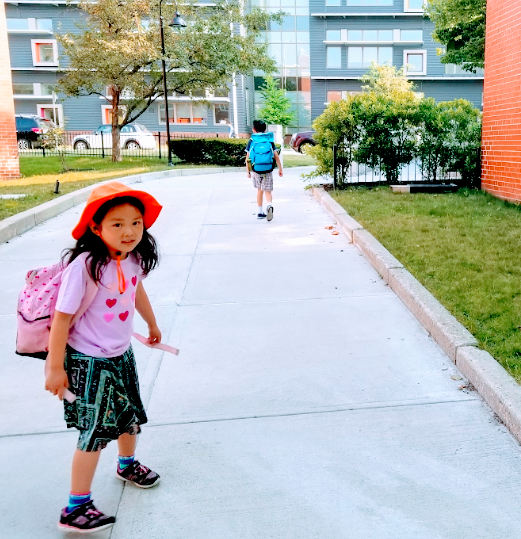 Yep, I'm expecting to hear an earful tonight from my kids, on how they waited for me and was almost late for school. Bad mommy!
I'll apologize for failing in my duty and praise them for making the right choice. Hehe, probably good for them to now feel much stronger ownership in getting themselves to school on time. ;-)
Hopes for the school year
I asked my kids what are they hoping for this school year.
"Pet cat in class," my daughter in 1st grade said.
"Play with friends," my son in 4th grade said.
"That's it, for the whole school year?!"
"Okay, also learn important things that'll help me in life, like math and science. "
Kids! :)
How about you, what are your hopes for your kids this school year? I'll share the poll result along with the Know your Neighbor's poll next week.
A couple of weeks ago, I mentioned about the monthly moms' night, and heard from a few moms. We'll probably do something in the next week or so, so if you're interested, let me know!
Weekend Events
The Italian Feast of Saints Cosmas and Damian
This annual tradition will include FREE performances by top national recording artists and favorite local bands. The...
Friday, 1pm - Sun., Warren Street, Cambridge
Tour de Streets is LivableStreets' biggest annual fundraiser held each September. The event brings people of all ages t...
Saturday, 9am, Lingo at Education First & DCR's North Point Park, Cambridge
This annual event is designed to showcase the visual and performing arts in Boston. Affectionately dubbed (ähts), it be...
Saturday, 11am - Sun., Christopher Columbus Waterfront Park
Riverfest 2018 at Assembly Row
Riverfest is the culmination of a summer of activity at Assembly Row. In partnership with The City of Somerville, Somer...
Saturday, 12pm, Assembly Row at Assembly Square, Somerville
Delicious IG-worthy food? LIT Beer Garden with alcohol and lawn games? Adorable teddy bears and other amazing carnival ...
Saturday, 4pm, Boston City Hall Plaza
This year, we are greeting the 8th Asian American Festival and the 3rd year of Asian American Day. Ethnic cuisines, mus...
Sunday, 10am, Boston Common
Open Newbury Street - last one!
Newbury Street will become a pedestrian-only walkway, closing to vehicles to allow pedestrians the opportunity use the ...
Sunday, 10am, Arlington Street to Massachusetts Avenue
BAKED Dessert Fest at Central Flea
A first of its kind dessert festival featuring over 50 of the area's top pastry chefs, independent bakers and bakeries ...
Sunday, 11am, University Park, Cambridge
Cambridge Carnival is a colorful and festive celebration rooted in African traditions. This free festival is celebratin...
Sunday, 12pm, Kendall Square, Cambridge
Join us for two days of puppetry extravaganza. For 2018 PuppetPalooza is pleased to have collaborated with the Puppe...
Tuesday, 6pm - 9/13, Chuckie Harris Park, Somerville
Back to School Nights per School
Amigos September 26 | 6 - 8PM Baldwin September 26 | 6:30 - 8PM Cambridgeport September 11 | 6 - 7PM Dr. MLK Septemb...
Tuesday, 6pm - 9/17, Cambridge
23rd Annual Danehy Park Family Day
Enjoy a fun-filled day of children's amusement rides, live music, roving performers, arts and crafts, face painting, pl...
Saturday 9/15, 11am, Danehy Park
Hub on Wheels Citywide Ride 2018
Mayor Martin J. Walsh and the City of Boston are excited to announce a new multi-year partnership with EF Education Fir...
Sunday 9/16, 6:45am, 1 City Hall Sq, Boston